Must Manually Enter Start Date and Time for online Ticket Requests for Normal, Meet and Boundary Survey Tickets
For online submitted Normal, Meet and Boundary Survey tickets, the requested start date and time must now be manually entered. The start date and time will no longer default to 48 hours (not including weekends and holidays).
This change is being made to facilitate more precise start date and times on ticket requests.
Remember: You are permitted to submit a ticket up to 14 days in advance of your start date and time.
If you have a large project where construction will be conducted in phases, GSOC suggests you consider utilizing a Meet Ticket.
Underground safety is a Shared Responsibility:
With the late spring, there are high demands on all aspects of the one call process. Communication among all stakeholders is critical to underground safety
Please remember to white mark where practical.
Describe your excavation area as precisely as possible.
Coming Soon: Extended Start Time for Normal Tickets
This new feature, Extended Start Time will allow a Facility Operator to request an extension to the work to begin date on a ticket of up to 24 hours. Extended Start Time was developed to permit compliance with Minnesota State Statute 216D for the requirement that facility operators perform a locate within 48 hours (excluding weekends and holidays) of the start date and time for normal tickets.
The request and acceptance to extend the start time must be completed prior to the original start date and time on the original ticket.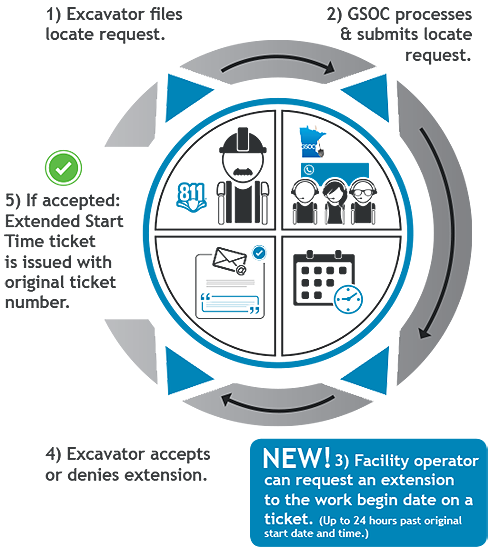 NEED MORE INFORMATION OR HAVE FURTHER QUESTIONS?
You can attend an ITIC training via one of our upcoming Webinar Wednesdays! If Wednesdays are not good for you, contact our ITIC department to schedule a webinar at a more convenient time.
GSOC ITIC Department - itic@gopherstateonecall.org or 651-681-7326.
CLICK HERE - To register for one of our Wednesday ITIC Training Webinars