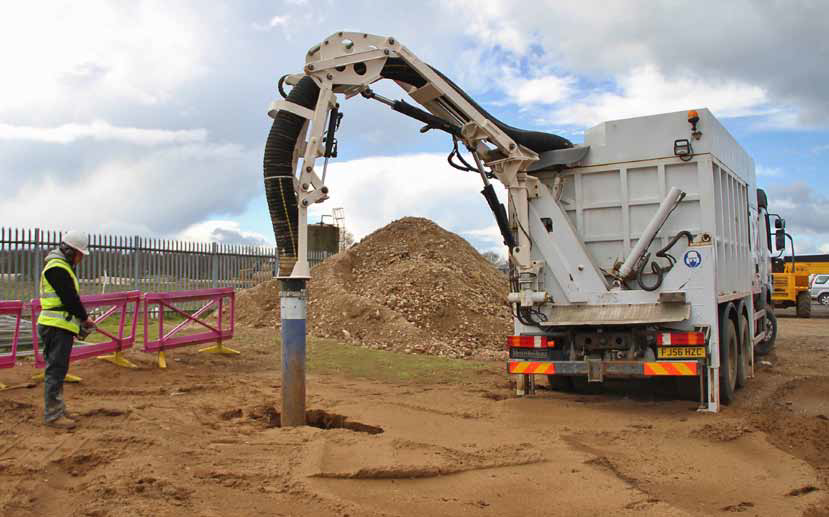 Vacuum excavation or "soft dig" is a non-mechanical and less invasive method of excavation. A blast of air or water is first directed into the dig site to loosen soil and break up any large materials. It is categorized as air or hydro vacuum excavation depending on how the soil is broken down. An air vacuum hose is then used to remove the debris from the hole and transfer it to a specially designed tank. Stored spoil can be transported elsewhere or, if dry, re-used as fill. Hydro excavation prevents the re-use of wet material for refilling the hole.1
Vacuum excavation reduces the need for manual hand digging or abrasive excavation methods (via traditional hydraulic excavators), which lessens the associated health risks for workers on site. This process allows for workers to stay safe on the surface and helps to prevent trench cave-ins. Excavators don't need to worry about puncturing a pipe when using vacuum excavation (versus mechanical methods), which could result in the need for costly repairs. Hydro excavation is advantageous when working in frozen ground, since hot water can be used to thaw and break up the soil. Vacuum excavation, when performed in accordance with accepted industry practices, is recognized as being safer than hand digging within the tolerance zone around underground facilities.
*Remember that location markings are only estimates, and the exact locations can vary. Respect the tolerance zone by maintaining a minimum horizontal (side to side) clearance of two feet (24") between an unexposed facility and the cutting edge or point of any power-operated excavating or earthmoving equipment. Use vacuum excavation or hand dig in the tolerance zone to maintain the integrity of underground facilities. See the graphic below.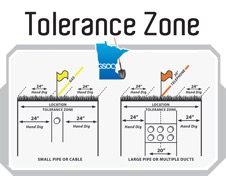 Since vacuum excavation technology is low-impact and non-destructive, it's gaining in popularity as the preferred excavation method for many industries.2 Stakeholder meetings held by the Minnesota Office of Pipeline Safety (MNOPS) have suggested changes to Minnesota Statutes Chapter 216D, which would acknowledge that carefully performed vacuum excavation will serve as the equivalent of hand excavation in certain circumstances. Regardless of the excavation method you choose, always remember to contact Gopher State One Call (GSOC) 48 hours in advance, excluding weekends and holidays, before you begin any excavation project to protect Minnesota's underground infrastructure!
Source 1: Vactron
Source 2: Groundforce