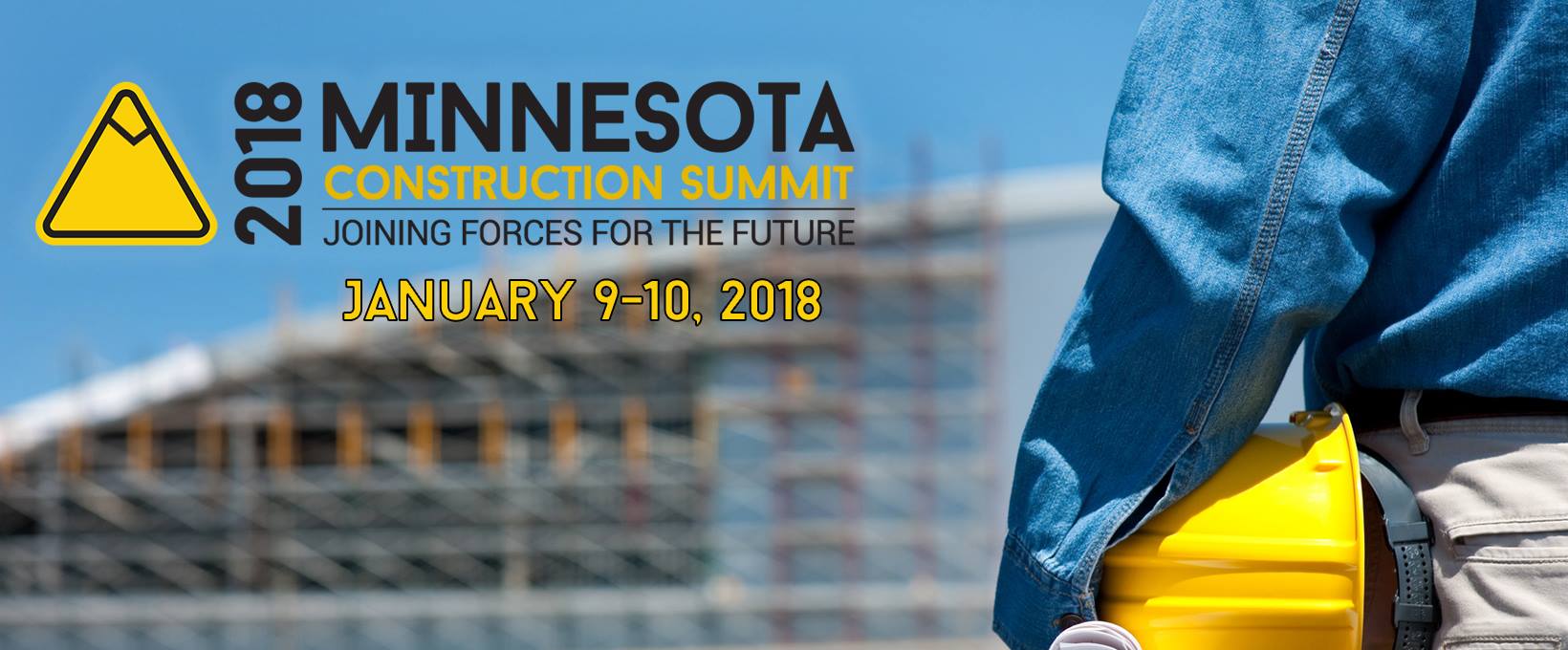 Save the date for the upcoming Minnesota Construction Summit on January 9-10, 2018 at the Minneapolis Convention Center! The Associated General Contractors of Minnesota, Association of Women Contractors, and National Association of Minority Contractors have joined forces to offer this one and a half day comprehensive construction industry conference.
The Summit Will Have Six Main Topic Tracks to Target Construction Professionals Such As:
Craft Workers
Project Managers
Project Owners
Topics Include:
Safety
Regulatory
Diversity/Inclusion
Construction
Technology
Leadership Development
The event will kick off January 9th with lunch and a keynote address from Walter Bond, a motivational speaker. It will also feature an industry networking reception in the evening, trade expo both days, and engaging keynote speakers during lunches and breakfast.
Gopher State One Call (GSOC) is a key sponsor of the 2018 Minnesota Construction Summit and will have an exhibitor booth to spread the "Call or Click Before You Dig" message to stakeholders in the construction industry. Visit us to learn about protecting underground infrastructure, since damage prevention is a shared responsibility. Find out more about the dangers of damaging buried lines. Tell us what you think about how we can improve our internal processes to better serve our users. Ask us any questions you may have and learn about what steps you can take towards underground damage prevention. You might just walk away with a cool giveaway item too!
Event Details
Time:
January 9-10, 2018
Tuesday, January 9th: 11:00 a.m.- 6:30 p.m. (Vendor Load In is 9-11 a.m.)
Wednesday, January 10th: 7:00 a.m.- 4:30 p.m.
Click HERE for the full event schedule.
Place:
Minneapolis Convention Center
1301 2nd Avenue S.
Minneapolis, MN 55403
Cost:
$200- Summit Registration (Both Days)
$150- Summit Registration (Tuesday Only)
$150- Summit Registration (Wednesday Only)
$75- Student Summit Registration
Click HERE to register for the event.

Attendee Parking: Parking is available on Third Avenue directly east of the Minneapolis Convention Center.
< 1 Hour: $4.00
1 to 3 Hours: $7.00
3 to 6 Hours: $9.00
6 to 12 Hours: $10.00
12 to 24 Hours: $12.50
24 Hours: $15.00
Keep Minnesota's underground infrastructure intact by always contacting GSOC 48 hours in advance, excluding weekends and holidays, before you begin any type of excavation, especially construction projects. Getting buried public utility lines marked is the first step toward excavation safety. Stop by the GSOC booth at the 2018 Minnesota Construction Summit to learn more!