On August 1st-3rd, 2017, Gopher State One Call (GSOC) exhibited at the 36th Annual Minnesota Farmfest. Recognized as the fourth largest outdoor agriculture tradeshow in the U.S. by Trade Show News Network, Farmfest connects thousands of attendees with top producing farmers, industry-leading manufacturers, and suppliers. The three-day event consisted of various networking opportunities, demonstrations, and exhibits.
GSOC has attended this event for over two decades. Having a booth at Farmfest every year provides an opportunity to reach out with the "call or click before you dig" message and relay information about private utilities to stakeholders in the agricultural industry. "Farms and ranches are full of private utilities, and landowners need to understand that extra steps may need to be taken to get all of the utilities on their property marked to excavate safely," says Estelle Hickman, GSOC's Senior Marketing and Public Relations Specialist.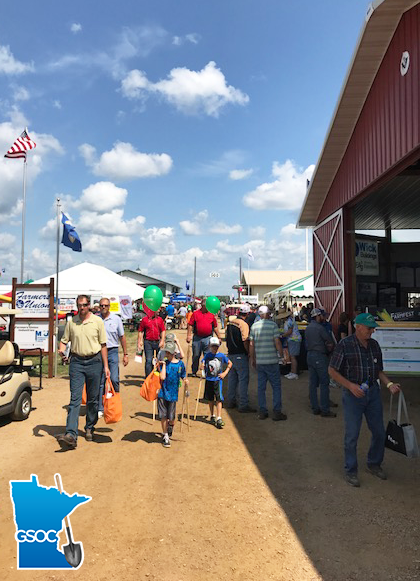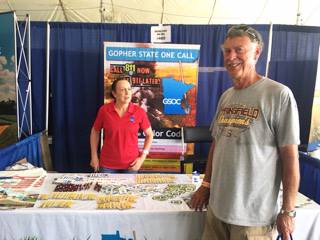 Presenting the damage prevention message to agricultural stakeholders can be a difficult task because "many landowners believe they know the locations of all utilities within their land. Although they may have great memory and a general idea of where [utilities] may be located, the only way to have precise locations is by contacting GSOC and having a utility company representative locate their facilities with specialized equipment," Estelle noted.
For farmers, filing a free locate request is essential since buried utilities are often closer to the surface than one may think. Estelle said, "Many landowners/farmers believe that their equipment will not dig deep enough to cause harm to underground utilities. Due to erosion and runoff, the depth of soil coverage on many of the high-profile transmission lines that run through rural Minnesota could be much shallower compared to when it was installed."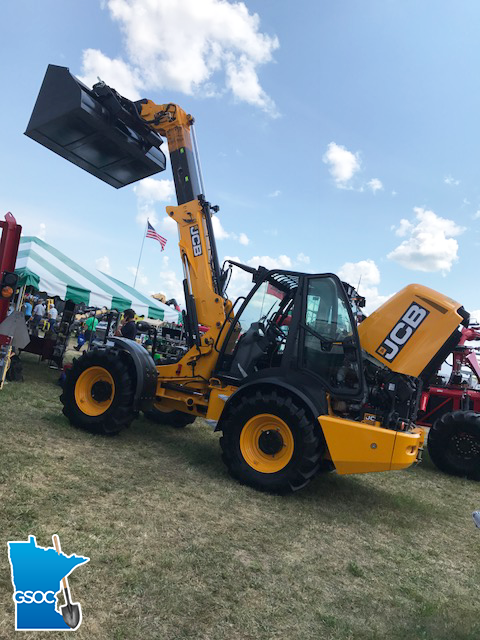 Overall, GSOC had great attendance at its booth, with many people interested in learning more about the organization and excavation safety practices. "Throughout our many years of attendance, we continue to see more awareness about safe digging practices and recognition of 811 and GSOC in the agricultural communities," said Estelle.
Reminder: What the Law Requires
Minnesota Statute 216D defines "excavation" as an activity that moves, removes, or otherwise disturbs the soil by use of a motor, engine, hydraulic or pneumatically powered tool, machine-powered equipment of any kind, or by explosives. The law exempts some farming activities from prior notice to GSOC, such as ordinary planting, cultivation, plowing, or harvesting when they are performed at a depth of less than 18" into the ground. Engaging in many other agriculture-related excavation practices still require a standard two business day notice to GSOC.
It is always the smart and safe move to contact GSOC prior to beginning any excavating activity, large or small, exempt or not. Contact GSOC when you are:
Fencing
Well Drilling
Burying a wire, pipe, or anything else
Digging a foundation
Setting a pole
Cultivating, plowing, or any field activity to a depth of 18" or more
Installing drain tile
Installing or extending a farm tap
Any contouring, grading, or changing of the land
Planting a windscreen
What is NOT Located: Private Utilities
Remember that all underground facilities on a farm or agricultural property may not be located as a result of your notice to GSOC. The law requires operators of lines buried in the public right-of-way, or serving other customers and properties, to register with GSOC. Chances are that you may have private lines buried on your land that you don't know are there. Examples of private lines include: farm taps, yard lights, secondary electric lines, propane lines, and power to garages. Consider hiring a private locator to mark these kinds of lines, so you can be safe when you excavate. A list of Minnesota private facility locators can be found HERE.
Protect yourself, your loved ones, and your property by contacting GSOC 48 hours in advance, excluding weekends and holidays, every time before you begin any type of excavation, especially agricultural activities. Getting buried public utility lines marked is the first step toward excavation safety!